Not only has the creation of Cheadle Hulme Primary School begun to address the growing demand for places in our area, it is extending the outstanding education already provided by Cheadle Hulme High School to our local primary age children.
Cheadle Hulme Primary School opened its doors in September 2018.  Two Reception classes will be added each academic year, until we become a thriving 420-pupil primary school – from Reception to Year Six – in September 2024.  The school also includes a nursery offering a first class Early Years setting.
Our Primary is a non-selective, non-denominational, two-form entry Free School with a maximum class size of 30 pupils. At full capacity 420 pupils will be housed in a purpose-built building with access to state-of-the-art facilities overlooking Bruntwood Park. Planning permission was granted in October 2017.
You can discover more about the progress of our new school here and our curriculum here.
Download our prospectus here.
Executive Headteacher
Lisa has spent the last 16 years in primary teaching and as Headteacher of Gorsey Bank Primary School secured consistently outstanding pupil achievement. Gorsey Bank now ranks in the 11th percentile of schools nationally and joint fifth when compared with similar schools.
Read More
Lisa studied Literature at the University of Lancaster graduating with a BA (Hons) before completing her MA in Education at Manchester Metropolitan University. She successfully gained her National Professional Qualification for Headship, is a Specialist Leader of Education with the Altius Alliance and Chair of the Wilmslow Education Partnership.
In 2001, Lisa spent a year as a Year 6 class teacher at Thames Primary School in Blackpool before being appointed as a Year 5 class teacher at Pownall Green Primary, an outstanding school in Stockport. Three years later Lisa was promoted to Assistant Headteacher at Pownall where she remained until 2007 before taking up the position of Deputy Headteacher at Gorsey Bank Primary School. She was promoted Headteacher in 2012.
Lisa has taught in a range of local authorities, in a variety of socio-economic settings. During her time as Deputy Headteacher of Gorsey, she worked towards systematic improvements in teaching and learning across a larger than average primary school.
Since becoming Headteacher, Lisa has secured consistently outstanding pupil achievement at the end of the Early Years, Key Stage 1 and 2. Gorsey Bank now ranks in the 11th percentile of schools nationally and joint fifth when compared with similar schools;. No school within a 75-mile radius performs as well or better. Gorsey's School Improvement Partner – a serving Ofsted inspector – agreed that the school's overall effectiveness should be evaluated as outstanding.
As Executive Headteacher of the Laurus Trust's primary schools, Lisa's track record of improving progress and attainment, combined with strong leadership gained in high performing schools, means she will ensure that our schools will provide a first rate education for all its pupils.
Lisa is married with a six-year-old son.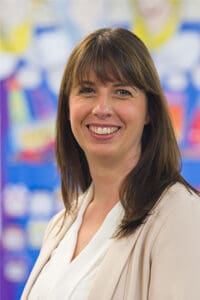 Head of School
Elise has spent the last 15 years in primary teaching mainly focused in Key Stage1 (KS1) and Early Years Foundation Stage (EYFS), working across three different county councils. She has secured sustained high standard in KS1 results and was also responsible for training other teachers.
Read More
Elise undertook her PGCE at Bath Spa University graduating in 2003. In 2013 she achieved her National Professional Qualification for Senior Leadership and is a Specialist Leader of Education for Key Stage One. Elise has recently completed a masters-level National Award for Special Educational Needs.
In 2003, Elise began her career at Shirley Infant School, Southampton as a Year 1 and 2 class teacher, rapidly progressing to become Leader for Year 1 and 2 as part of the Senior Management Team. During her five years with the school, she also undertook the roles of Physical Education Coordinator, Primary Link Teacher, Special Educational Needs Coordinator and Information Communication Technology Coordinator.
After a brief spell working on the Isle of Man as an Early Years Foundation Stage Leader, while teaching Year 1 and Reception pupils, Elise joined Gorsey Bank Primary School in January 2010 as a Year 2 teacher. Here she became Assistant Head Teacher and Specialist Leader of Education for Key Stage 1 and Behaviour and was the Senior Leadership Team member responsible for Behaviour and Safety. Elise also held the roles of Maths Leader, More Able, Gifted & Talented Leader, Phonics Leader, Key Stage One Leader and Special Education Needs and Disability Coordinator.
She has two young daughters and thoroughly enjoys sharing her love of teaching as a parent.